"Some say" we have the best space in town… We're very much in tune with how important ambiance is for dining. As a multi-level restaurant, a key element of what we do is putting the right people in the right space. Our aim is to provide the most comfortable setting that matches individual needs.
MORE ABOUT WHAT WE DO
Or scroll down to see our dining rooms.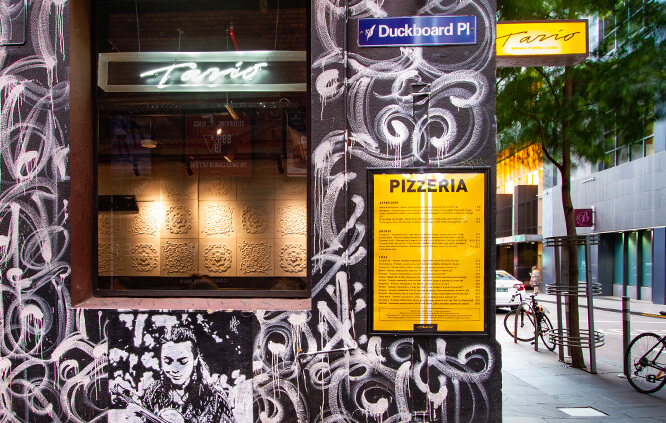 Always buzzing since opening in 2005 our main dining room on Flinders Lane offers the premier Tazio dining experience of contemporary Italian-Australian cuisine. With friendly and attentive service, everyone is always welcome regardless of whether you're a first time flyer or or in for the weekly session. This is the most popular area for smaller parties of 2-4 who want to be part of the action.
Larger than our ground floor dining room, our level 1 space is open daily for business lunches. It's a great option as a quieter spot for earlier in the week, but the space is truly in its element for larger groups and events. The space design draws from our many years of running events and is built to suit a multitude of functions.
LEVEL 1: PRIVATE DINING ROOM
Our private dining room offers closed door privacy for groups of up to 18 guests. Ideal for when guests require an additional level of control over the dining ambience. Both lighting and background music can be adjusted to suit the party. Groups have the ability to dine in an open or closed door setting.
GROUND: SEMI-PRIVATE DINING ROOM
Our ground floor semi private dining room is great for those wanting to be a little bit away from the action but not too far. The table can accommodate up to 14 guests.
Our outdoor terrace is open all day for coffee and drinks during the week and is available for dining on weekend evening (weather permitting).
BASEMENT BAR (COMING SOON)
Our basement level with its own laneway entry will be open to the public for drinks on Friday and Saturday evenings until late. At all other times, the space is available for exclusive events only.